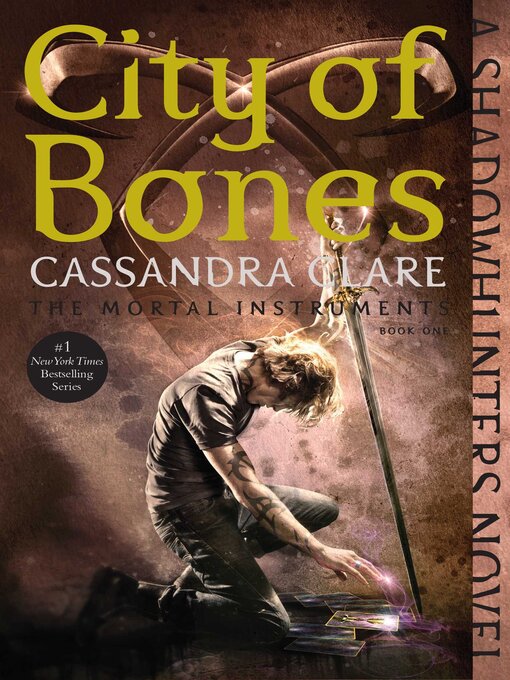 City of Bones by Cassandra Clare (2007)
Review by Krista- Grade 10
Genre: Fantasy, Romance, Action/Adventure
Find it Digitally: Overdrive/Libby eBook, Overdrive/Libby audiobook, Hoopla audiobook
Rating: 10 out of 10
REVIEW:
If you are interested in any sorts of fantasy and are willing to be introduced into the shadow world, this book is definitely for you. Clay Fray, a teenager living in New York City, is living an ordinary life until she finds out there is a whole other world full of demons and shadows all around her.
The people who protect the world from these creatures are called Shadowhunters. Clary realizes that she is meant to be a Shadowhunter, and soon has to go on epic adventures in order to find out her true destiny. Along the way, she meets new friends, finds forbidden love, and battles creatures that she didn't know existed. This book series of 6 is a wild adventure full of many twists and turns, romance of course, and a fantasy aspect that allows your imagination to run wild.
One of my favorite things about this book was the fact that I could never put it down. I always had to keep reading in order to find out what happens next. Each character develops so much throughout this book series, and it was entertaining to watch each of them warm up to new friends, fall in love with other characters, and become warriors that ultimately end up saving the world. Clare has an odd writing style that I very much enjoyed. It is not in first person point of view, it is in third, but throughout each chapter she goes into the minds of each character instead of just "shadowing" one character the whole time. I especially liked this because I was able to read the minds of most characters and get their opinions.
This book is for someone who is a fan of fantasy. If you read any of the Percy Jackson books, or like reading about mythical creatures and angels, you would like these books. This series was romance filled, action packed, and had some plot twists that kept me reading. If you finish the series and want more (like me), there are other series by Clare that are in the Shadowhunter world as well, with some of the same characters.