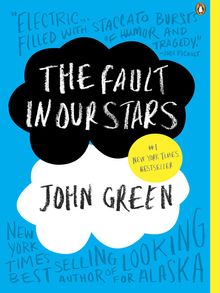 The Fault in Our Stars by John Green (2012)
Review by Manpreet- Grade 11
Genre: Romance, Young Adult Fiction
Find it Digitally: Overdrive/Libby eBook, Cloud Library eBook
Rating: 8 out of 10
REVIEW:
If you are interested in any romantic/love stories and want something that would melt your heart, then this book is for you. This book elicits all types of emotion. Parts of the story are upsetting and disheartening, but other moments are delightful and friendly.
This novel is about a young teenager named Hazel, who has been diagnosed with lung cancer. She attends a cancer support group, where she meets a teenage boy Augustus Waters, who is also a cancer patient. They fall in love with each other while facing the difficulties of cancer patients. This is a thrilling novel packed with love, emotions, difficulties, adventure, and tragedy. This novel debuted at number one on The New York Times Best Seller list in 2012 and has touched hearts of millions of people.
I love this novel because I can never forget the plot of the story. This novel is written from the first-person point of view from the perspective of Hazel. It feels like if Hazel is personally telling the story to you. I like how this novel is filled with lots of descriptions that allow readers to create an illustration in their minds. I wish the ending of the story could have been content because the ending made me cry. This novel is not a basic love story where two people fall in love and live happily ever after, instead it is more realistic where it does not have a happy ending. Green conveys a message of how life isn't perfect, and you should be grateful because others are suffering from health problems and are not able to live their life normally.
This book is for someone who is a fan of realistic fiction and love stories. If you like Romeo and Juliet, then you would love this novel because it consists of love and tragedy. If you enjoy reading this novel, then you would also like other books by John Green such as Paper Town. Overall, there is a unique plot with realistic events, which makes this novel worthy of reading.