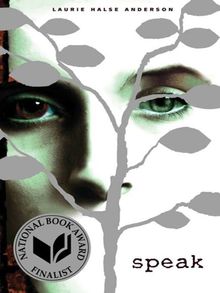 Speak by Laurie Halse Anderson (1999)
Review by Manpreet- Grade 11
Genre: Realistic Fiction, Young Adult Fiction
Find it Digitally: Overdrive/Libby eBook, Cloud Library audiobook
Rating: 8 out of 10
REVIEW:
"Speak" by Laurie Halse Anderson is a realistic fiction novel that tells the story of a freshman, Melinda Sordino. Over the summer, Melinda and her friends were at a party where she called the cops for an untold reason which caused her to lose her friends.
She goes through hardships and internal conflicts, during her freshman year, where her friends leave her, performing poorly on academics, going into depression, self-harming, and more. If you enjoy reading realistic fiction or want to introduce yourself to the true reality of adulthood, then this book is for you. You should read this book if you want to find out what happened at her friend's summer party, and why she called the cops.
I enjoy reading this book because it is embedded with a meaningful theme and symbols. The author shows how Melinda was able to rediscover the voice that she lost during her summer. After the summer accident, Melinda lost the courage to speak up and communicate with others. The author uses symbols of changing seasons to represent the process of how Melinda heals from her "wounds". Melinda's entering into high school represents her fall from childhood and entering into adulthood. I like how the symbols used in the novel contribute to the meaning of the whole, and it makes the novel more interesting to read. I love the ending where Melinda discovers her true self and speaks up against injustice.
This book is definitely for those who want to educate themselves about handling some sensitive subjects and how to speak up for themselves. This book inspires readers to share and speak up against violence, harassment, abuses, and internal conflicts. This book can encourage people to speak up against injustice especially those who are suffering from any sort of violence or harassment. I recommend this book to teens because it acknowledges some issues that teens should be aware of as they enter into adulthood.