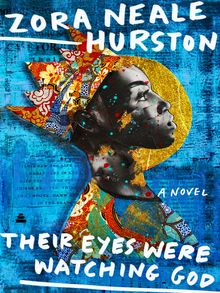 Their Eyes Were Watching God by Zora Neale Hurston (1937)
Review by Manpreet- Grade 11
Genre: Psychological Fiction
Find it Digitally: Overdrive/Libby eBook, Overdrive/Libby audiobook, Hoopla audiobook, Cloud Library eBook, Cloud Library audiobook
Rating: 8 out of 10
REVIEW:
Their Eyes Were Watching God by Zora Neale Hurston is a psychological fiction novel that tells the experience of Janie Crawford, a woman of mixed black and white heritage raised by her grandmother, Nanny.
The story begins with an adolescent Janie sitting under a pear tree, where she witnesses a bee pollinating a flower and wishes to find her own "bee" who would fulfill her desire. From here, her quest begins where she wants to find her true love. This story is not only about finding a mate, but it is also about having access to her "horizon" aka happiness. If you are curious to know more about Janie's experience in finding her true love and happiness, then you should definitely read this novel.
I love how Janie's character evolves throughout the novel. At the beginning of the novel, Janie was unsure about what she wanted. She believed that she could find true love through marriage, but after her first marriage, she realized that love is not always found through marriage. As she proceeded through her quest, she discovered that she wanted someone who would give happiness to her. Initially, Janie was waiting for her own "blossoming" to find love. Janie realizes that her happiness was not found through marriage or sexual desire but true love and self-discovery. In the end, Janie was able to have access to her "horizon" and value her independence, freedom, strength, and true love that she found through her journey. I love how Janie's experience of her quest enabled her to become a strong and independent woman and allowed her to define the true meaning of love.
This book is for someone who enjoys reading bildungsroman. This novel allows the reader to get in Janie's mind and experience her journey to self-discovery. If you want to see others' perspectives on the meaning of happiness and love, then you should read this book. If you enjoyed this book, then check out other Hurston's novel.