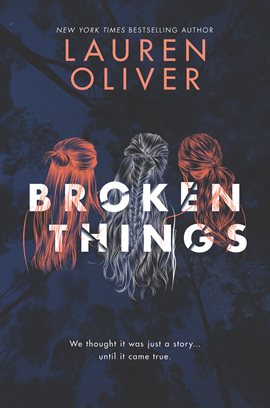 Broken Things by Lauren Oliver (2016)
Review by Sukhsimran- Grade 9
Genre: Mystery
Find it Digitally:Hoopla eBook, Hoopla audiobook, Cloud Library eBook, Cloud Library audiobook
Rating: 7 out of 10
REVIEW
The book, Broken Things, by Lauren Oliver is deserving of reading. This book is filled with different emotions and has a great, interesting plot. This book is full of twists that make the reader want to keep on reading. It has been five years since Summer was murdered. The book focuses on the lives of Brynn and Mia who are Summer's ex-best friends.
They are on a mission to find the real culprit and to prove themselves innocent.
I enjoyed reading this book because of the unique plot. This book is completely different from the other books I have read and was extremely interesting. This book is packed with several emotions like betrayal, love, and friendship, ultimately making this book worthy of reading.
Someone who likes reading mystery books will definitely have an enjoyable time reading this book. Aside from just the huge mystery Brynn and Mia are trying to uncover with their friends, they also learn a lot more about each other, ultimately causing some personal secrets of one another to be revealed.