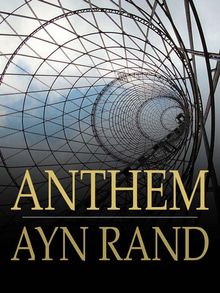 Anthem (1996)
Review by Evalyne- Grade 10
Genre: Science Fiction, Dystopian
Find it Digitally:Overdrive/Libby eBook, Overdrive/Libby audiobook, Hoopla eBook, Cloud Library eBook, Cloud Library audiobook
Rating: 8 out of 10
REVIEW
No I, no me, no self, no individuality. Ayn Rand's dystopian novel, "Anthem", is the story of Equality 7-2521, a piece of the population of the City where there is no one but one people. Having been raised in such a place where uniformity determines who is of society and who is evil,
Equality was like any of their brothers who followed the law, and did what was expected and fulfilled their purpose to the City... or so they tried. Discovering what they should not have, preferring when they had not choice, thinking, wondering, desiring... Who is Equality 7-2521?
Though slightly anti-climatic, this book was a one-of-a-kind experience. Ayn Rand tells a story of oppressive collectivism and the importance of individuality, teaching that sometimes, it's ok to be selfish. Equality 7-2521's story of self and what they want is expressed through a simple yet stylized way of writing in terms of syntax and diction, and also the episodic manner in which the story unfolds; each chapter being with their own introduction, climax, and resolution to set up for whatever is to come next.
I would recommend "Anthem" for mature audiences, high school and above, due to the complexity of the novel and understanding the themes of which drive the story forwards.