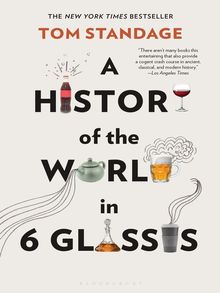 A History of the World in Six Glasses (2006)
Review by Evalyne- Grade 10
Genre: Nonfiction
Find it Digitally:Overdrive/Libby eBook, Overdrive/Libby audiobook, Hoopla audiobook, Cloud Library audiobook
Rating: 7 out of 10
REVIEW
History. The true tales of man, of knowledge, of revolutions, religion, empires, the earth, and life all around us. In the classroom, we learn of the world oftentimes through great men, artifacts, locations, and documents of our past. But what about history as told by the most popular drinks of today?
Through the age of beer, wine, spirits, coffee, tea, and our beloved Coca-Cola, Tom Standage writes a light history of mankind in the unique, but effective, perspective of the world's most favorite beverages.
Historical nonfiction for some may not seem like the most appealing read, as was for me for a lovely summer homework assignment, but Standage's "A History of the World in 6 Glasses" was a relatively fun and very informative book that taught me much about the origins of these six drinks in the context of the Neolithic Revolution, the Greek and Roman empires, the Age of Exploration, the Scientific Revolution, World commerce, and the industrialization of America.
This book is perfect for people high school and above looking for a sweet summary of mankind's past, and the history of the world's most famed drinks through the ages.