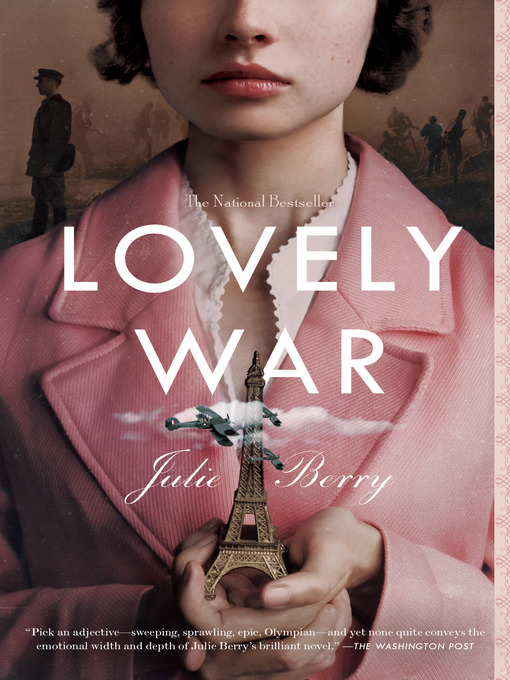 Lovely War by Julie Berry (2019)
Review by Caitlin- Grade 11
Genre: Fantasy, Historical Fiction, Romance, Mythology
Find it Digitally: Overdrive/Libby eBook, Cloud Library Audiobook
Rating: 10 out of 10
REVIEW:
Four young adults, five powerful Olympians, and one despicable war. Lovely War, by Julie Berry provides a unique spin on the classic tale surrounding the power of love. Hazel, James, Colette, and Aubrey, four innocent young adults drawn to each other during the terror of World War I with help from the goddess of love, Aphrodite. When Hephaestus, god of fire puts his wife Aphrodite on trial,
the goddess uses these two love stories to narrate her testimony. Aphrodite's recollection of these two love stories at the height of war will leave readers and Olympians on the edge of their seats as they wait to hear what happens.
Julie Berry has created a marvelous universe, and after becoming entwined in the novel's love story, this romantic, historical-fiction masterpiece has easily become one of my favorites. I never wanted to put this compelling book down, but I also never wanted the story to end. Ms. Berry's word choice was exquisite, and allowed me to live in the world she so masterfully created. Tears streamed down my face while I ventured into the trenches with James, listened to the enchanting piano playing of Aubrey and Hazel, or when I heard the sickly sweet melodies sung by Colette. I was completely invested in the realistic ups and downs of romance that Julie Berry depicted. This novel made me believe that true love does exist.
I highly recommend Julie Berry's Lovely War. Readers of mythology will find this novel clever. Hopeless romantics, such as myself will also love this book. The prime audience for this book is 15-20 years old, although older readers will enjoy it just as much. If you do choose to read this novel, I hope you love it as much as I did.