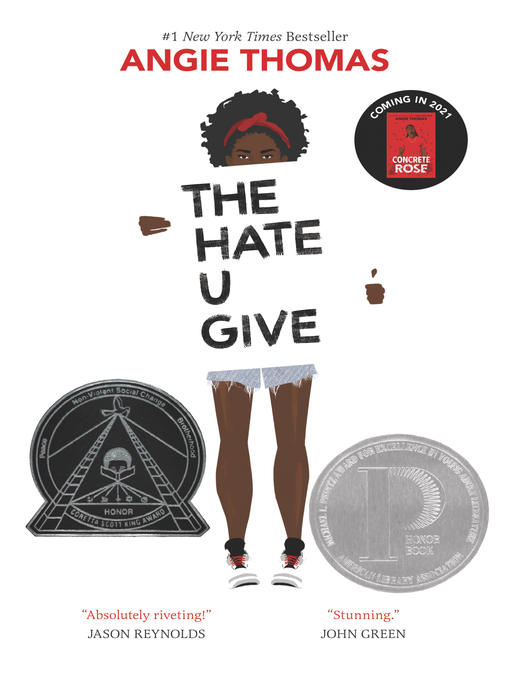 The Hate U Give by Angie Thomas (2017)
Review by Manpreet- Grade 11
Genre: Young Adult Fiction
Find it Digitally: Overdrive/Libby eBook, Overdrive/Libby audiobook, Hoopla eBook, Hoopla audiobook
Rating: 10 out of 10
REVIEW:
The Hate U Give, by Angie Thomas, is a young adult fiction novel that tells the story of a sixteen-year-old black girl, Starr Carter, who lives in a black neighborhood and attends a wealthy, white prep school. One day, she attends a party, where she meets her friend, Khalil Harris, and he offers to take her home. On their way back to Starr's house, a police officer pulls up and shoots Khalil.
Starr is traumatized by witnessing her friend being killed and decides to stand up for what's right.
This book is one of my favorite young adult fiction novels. The story conveys the struggles and racism that black communities face. Starr fights for justice and equality on behalf of Khalil and other black people killed by police brutality. As a brown girl, I can relate and connect to this book. I have seen/heard news where colored communities are harmed because they have a different skin color. This story brings awareness about the racism that black communities face. It talks about black lives matter movement, and it relates to what is happening in our world now. The author emphasizes that colored people are human beings and they deserve to be treated equally as white people.
Everyone should read this book and educate themselves. Even though this is a young adult fiction novel, adults should also read this novel and educate themselves. This novel provides us the perspective of a colored person who deals with racism and the hate they receive. It encourages everyone to speak up against injustice and end racism.