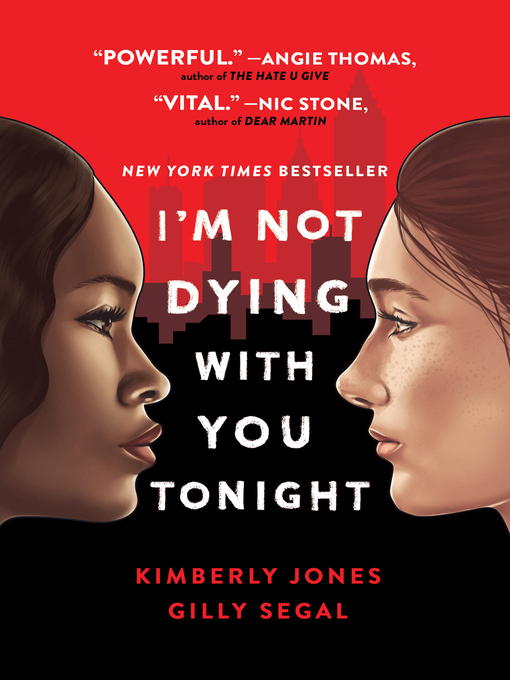 I'm Not Dying with You Tonight by Kimberly Jones, Gilly Segal (2019)
Review by Stephanie- Grade 12
Genre: Realistic Fiction
Find it Digitally: Overdrive/Libby eBook, Overdrive/Libby audiobook, Hoopla eBook
Rating: 7 out of 10
REVIEW:
I'm Not Dying with You Tonight follows two girls, of very different backgrounds, through one very chaotic night. The story is told from the perspective of Lena, who is black, and Campbell, who is white. After a fight breaks out at the high school football game, the girls join forces and try to return home in the midst of violent riots and destruction. The story touches on many relevant topics surrounding race while
showing the development of an unlikely friendship despite differences. The book is filled with impactful and emotional moments that bring light to some very real issues.
I really enjoyed the story and how it conveyed Lena and Campbell's development as individual characters as well as friends. One of my favorite aspects of the book was how it switched perspectives from chapter to chapter. I like how this allows you to see each event from both characters perspective as well as how it highlights the theme of racial inequality conveyed through the story. I enjoy getting to hear both main character's thoughts and see how they are both impacted in different ways by the events of the story. I thought the story was very eye opening and I liked how it touched on important issues such as racism and racial inequality.
This book is for young adult readers. I would recommend this book to anyone who wants to gain more perspective and knowledge on topics such as racism and its impact on society. I think this would be a good book for anyone looking to explore more serious and important topics through fiction.