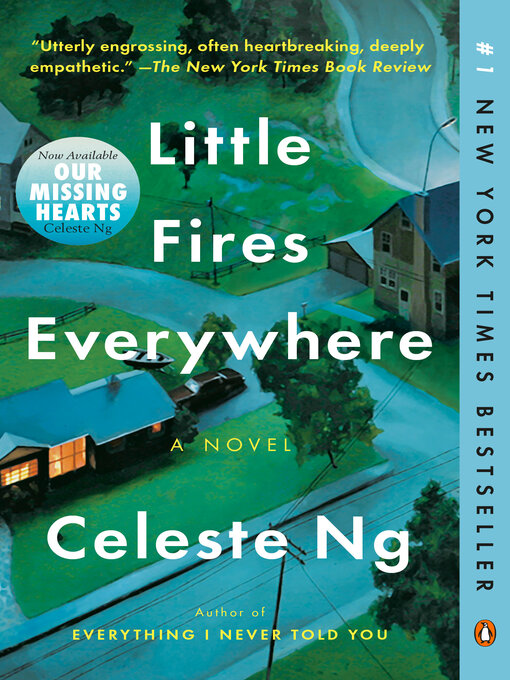 Little Fires Everywhere by Celeste Ng (2017)
Review by Stephanie- Grade 12
Genre: Realistic Fiction
Find it Digitally: Overdrive/Libby eBook, Overdrive/Libby audiobook
Rating: 9 out of 10
REVIEW:
Taking place in the author's home town of Shaker Heights, Ohio during the late 1990s, "Little Fires Everywhere" follows two families: the Richardsons and the Warrens. The Richardson family is made up of four children: Lexie, Trip, Moody, and Izzy. The Warrens are made up of a mother, Mia, and her daughter, Pearl. The wealthy, upper-class, and seemingly perfect Richardson family could not be more different from Pearl and her artistic, free-spirited mother.
These two families converge when Elena, the matriarch of the Richardson family, invites Pearl and Mia to live in their rental house in addition to employing Mia to work in her house. Throughout the novel, Elena and Mia encounter many clashes with each other as a result of their differing beliefs, lifestyles, and socio-economic statuses. In addition, both mothers also often face a number of different conflicts with their children, stirring up new conflicts and drama on every page.
I thought this was an incredible novel. The story was one of the most interesting and unique plots I have ever read. I was always kept on the edge of my seat by all of the secrets and mysteries to be uncovered. The book was always filled with so much drama and so many different events, so there was truly never a dull moment. Every character had so much depth and so many different layers to explore as the story progressed. I loved the complexity of the characters and their relationships to one another, as well as the complexity of the storyline. With each new reveal and discovery, I felt a range of different emotions and an intense desire to keep reading and find out more. The story touches on two very interesting, yet different, family dynamics and the explosive drama that occurs when they are brought together.
I would recommend this book for young adult readers. I think anyone who enjoys fiction, drama, suspense, and romance will love this book.